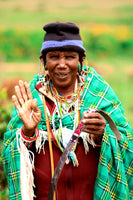 The Kenyan Collection began in 2003
as a modest effort to support a community
we care about. As passionate dog lovers,
the collection very easily and quickly
became focused on what we are now best
known for – exquisite leather beadwork.
These are works of art at the hands of the
Maasai Mamas who use leather as if a
canvas and beads as if paint.
The craftsmanship speaks for itself.
How to measure for your Kenyan Collection Collar
Leila in Hippo Circus

Photo by Tamandra Micheals
Leila in Hippo Circus
Photo by Tamandra Micheals